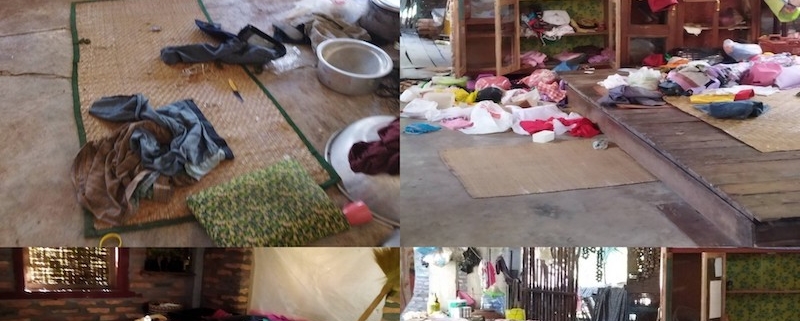 At least 10 junta troops were killed during clashes that began in southern Tanintharyi Region late last week
Fighting between regime and resistance forces in southern Tanintharyi Region has forced thousands of civilians to flee and left casualties on both sides, according to local sources.
The clashes began last Friday in Le Thit, a village on the border between Tanintharyi and Kyunsu townships in Myeik District, and continued for the next four days, an officer of a local defence force told Myanmar Now.
By Monday, around 100 junta troops stationed in the village were forced to withdraw in order to regroup with reinforcements, after which they attempted to mount a counteroffensive the next day, said the officer.
"They retreated after three battles, but when they launched another assault, we managed to get the upper hand again," he said, adding that 10 regime soldiers and one resistance fighter were killed in the clash on Tuesday.
"They thought we were only armed with muskets, so they just marched forward. But actually, we had rifles to fire at them," said the officer.
The resistance fighter who died was killed by artillery fire, he added.
Le_thit.png
Two anti-regime groups based in the area—the Tanintharyi Defence Guerrilla Force and the People's Defence Team of Myeik and Kyunsu—took part in the fighting, according to the officer.
The regime forces included troops from Light Infantry Battalions 556, 557, 558, and 561 based in Tanintharyi, as well as members of the pro-military Pyu Saw Htee militia, he added.
Le Thit is located near Tanintharyi's Andaman Sea coast and is regarded as a stronghold of anti-regime forces in the area. It has come under attack from the military several times in the past, according to locals.
A member of another local resistance group told Myanmar Now that all 3,000 of the village's inhabitants fled as junta troops approached ahead of the fighting that began last week.
"When we went back after they retreated, we found that they didn't just loot and destroy people's homes, but also killed and ate their cows, including even newborn calves," he said.
He added that most of the regime casualties appeared to be members of the Pyu Saw Htee, whose bloodied uniforms were found in the village after the military withdrew.
Resistance forces said that the movement of junta troops towards the eastern side of Le Thit, where local defence teams are most active, could signal an intensification of fighting in the coming days.
https://ndburma.org/wp-content/uploads/2022/12/photo_1_0_0.jpeg
375
800
ND Burma
https://ndburma.org/wp-content/uploads/2020/04/ndbLogo-296x300.png
ND Burma
2022-12-01 08:38:42
2022-12-05 08:41:02
Thousands flee fighting in Myanmar's far south