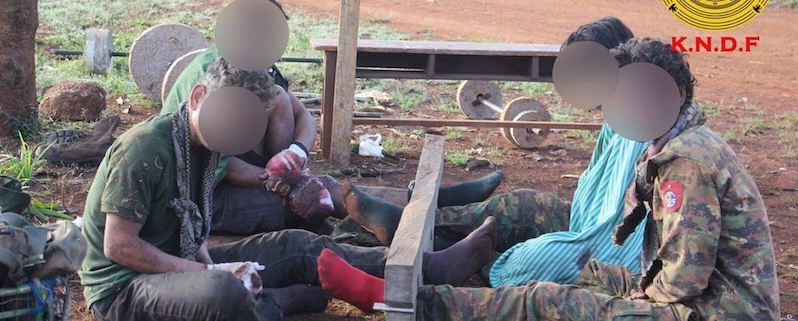 The soldiers belonged to a unit that arrived in Karenni State just days before it witnessed one of the worst mass killings since the coup
Four soldiers accused of taking part in one of the worst atrocities committed by Myanmar's military since it seized power nearly two years ago were captured in battle on Saturday, according to a Karenni resistance group.
The Karenni Nationalities Defence Force (KNDF) said that the soldiers—a sergeant, two corporals, and a private—were taken prisoner following a clash in Karenni (Kayah) State's Demoso Township that also left 20 regime troops dead.
The group said that the captives were members of Light Infantry Battalion (LIB) 108, a unit under the command of the notorious Light Infantry Division (LID) 66.
The LIB 108 troops were transferred to Karenni State from their base in Ayeyarwady Region's Danubyu Township on December 19 of last year—just days before at least 40 civilians, including children, were burned to death in LID 66 custody near the village of Moso on Christmas Eve.
According to KNDF spokesperson Khu Reedu, who is also the group's Secretary 3, the soldiers captured in the village of Dungkame (Dawkame) on Saturday admitted to their involvement in the massacre.
"They confessed to the crime themselves," said Khu Reedu, adding that the prisoners would be handed over to the Karenni State Police (KSP), a resistance law enforcement agency, and detained in accordance with international law.
Myanmar Now was unable to speak to the prisoners or regime officials regarding the KNDF spokesperson's claims.
Investigators who inspected the site of the mass killing said they found the charred remains of 26 men and five women, including two aid workers, among more than a dozen vehicles consumed by fire. Many more bodies were reduced to ash and collected in bags.
Local residents and resistance forces accused the LID 66 troops of deliberately starting the inferno, but the regime claimed that it was caused by the accidental explosion of fuel containers loaded on some of the vehicles.
The KSP and the shadow National Unity Government's Ministry of Human Rights said that plans were underway to prosecute regime officials for the incident, but no details about the progress of the proceedings were available.
https://ndburma.org/wp-content/uploads/2022/12/kndf_pow_0.jpeg
371
798
ND Burma
https://ndburma.org/wp-content/uploads/2020/04/ndbLogo-296x300.png
ND Burma
2022-12-06 08:28:01
2022-12-07 08:33:32
Karenni forces capture soldiers linked to last year's Christmas Eve massacre